IDSC BEAR PROGRAM.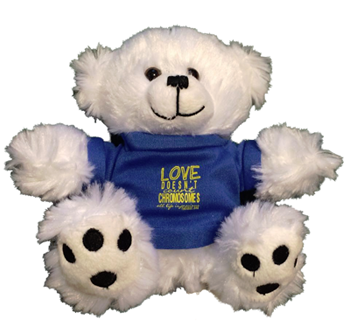 The 6" bear features the IDSC's most popular shirt slogan, "Love doesn't count chromosomes". The back of the shirt has the IDSC logo and tagline, "all life is precious".

For the cost of $25 (price includes shipping), you will receive the "Love doesn't count chromosomes" bear as well as a complimentary copy of our eBook, Real Families, Real Stories: Celebrating Life with Down Syndrome.
Giving Back
For each bear purchased, the IDSC will also gift a family receiving a new diagnosis of Down syndrome with a bear and an eBook. If you have a specific family in mind, please leave their name and an address in the "Note to seller" field at checkout.
To purchase the "Love doesn't count chromosomes" bear, click the link below. 
Shipping within the United States is included with your $25 purchase. Your order will ship within 1-2 weeks of your order date. 
Do you need International shipping? Please use the below link to donate towards international shipping fees.